A premium wall fitted bath with the style of a Free Standing tub.
BATHING AND SHOWERING COMBINED
A new addition to the Tubby family is our exciting new Torre Dee Freestanding bath. With the handy back edge fitting to the wall, this design bridges the gap between a free-standing and a built-in bath. Add the optional D shaped curtain rail to create beautiful and functional showering. 
This model is manufactured in one length of 1660mm. You can also specify the bath to be made with or without tap holes. As with all Albion baths, the Torre Dee is made from our unique Iso-Enamel material. This model has a clever integral overflow system that incorporates a pipe that is cast into the wall of the bath. This dispenses with the external overflow pipe; A feature maintains the visual elegance of the exterior design. 
The exterior of the Torre Dee Freestanding bath can be finished in a colour of your choice. Simply choose any paint colour from Farrow & Ball or Dulux's ranges and supply us with either the name or code. Or, why not opt for one of our burnished finishes? The choices are gold, iron or bronze.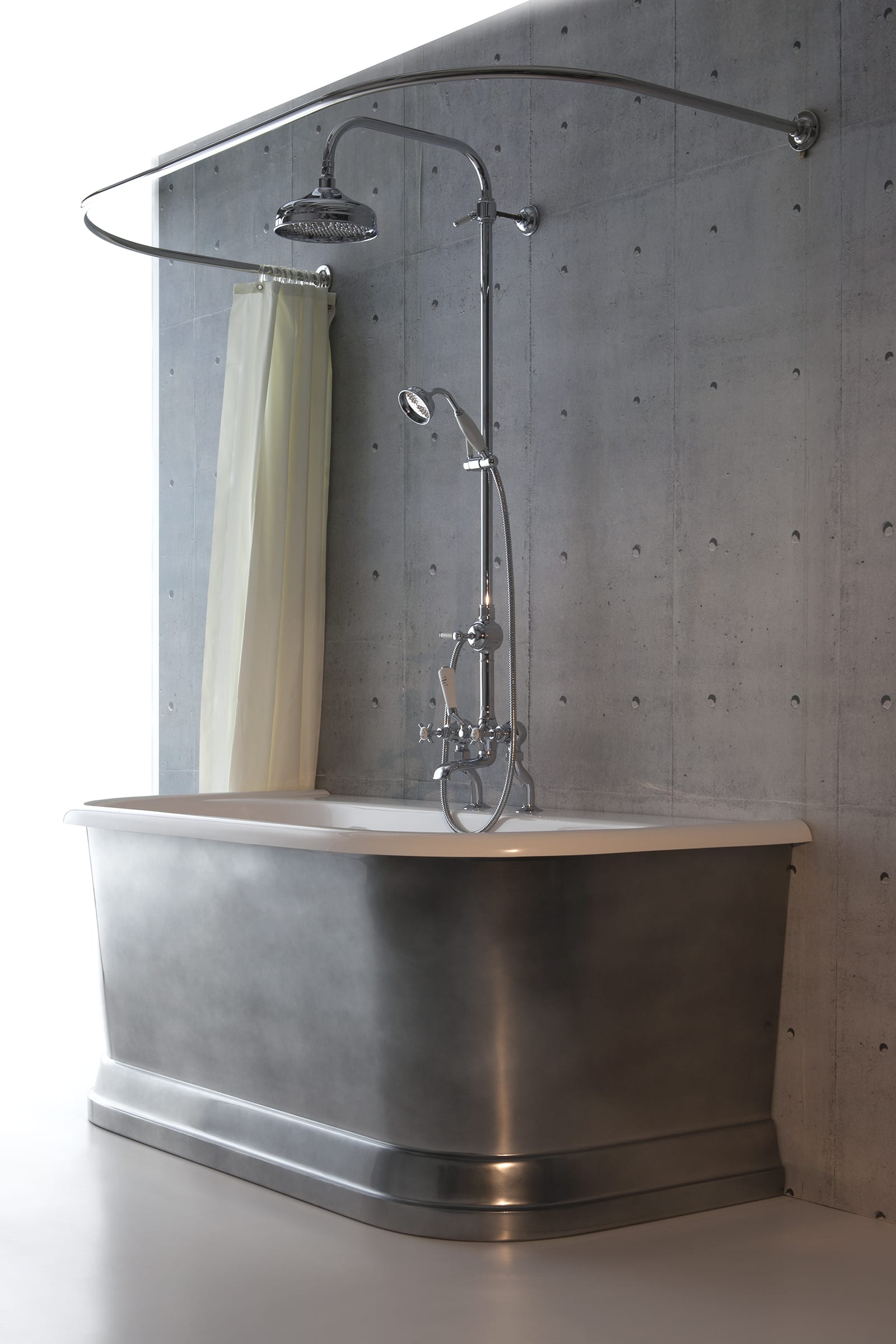 Designed and manufactured in our Weeley, UK factory.
Made from our unique Iso-Enamel material that keeps
your bath water hotter for longer.
 1size produced:
1660mm long x 810mm wide.
This bath utilises our integral overflow system. Polished waste fittings are provided in chrome, bright nickel and bare brass.
The bath is designed to be used with stand-pipe or wall mounted taps.
The Torre Dee Freestanding bath is hand made to your order.
Please get in touch for pricing and delivery times.
Designed to fit and seal against a wall along the back edge. The Torre Dee provides the ultimate solution for bathing and showering. Available with or without tap holes.
ADD LUXURY INTO A COMPACT ROOM
The Torre Dee is perfect for the space challenged bathroom.
ALBION'S ISO-ENAMEL BATH MATERIAL
HOTTER FOR LONGER
AND HALF THE WEIGHT
Back in 1996, Albion's founders had a mission – to create the finest bath tubs available. Their aim was to keep the positive features of cast iron but remove the drawbacks – such as extreme weight and heat loss from the bathing water.
When compared to acrylic, an Albion Torre Dee Free Standing bath is tougher, stiffer and more durable.
Your bathing water will stay warmer for three times longer.
For a given size, an Albion bath is 50-70% lighter than cast iron.
Iso-Enamel is chemical resistant. Use modern liquid cleaners on your bath surface.
Hand made.  Albion baths are created entirely by hand by our skilled team in Weeley, Essex – England
Enhance your bathroom with Albion's hand-made baths and bathroom furniture.
A range of classical styled taps and water fittings for your bath. Finished in chrome or bright nickel.
The solution for the space challenged bathroom. Combine luxury bathing with practical showering – all within the space of the bath.